In May of 2011, the Ogeechee River experienced one of the largest fish kills in our state's history.  38,000+/- fish were killed along with alligators, turtles, and birds over a 77-mile stretch of the river.  This trail of devastation began in Screven County, just downstream of the discharge pipe of a textile treatment facility – King America Finishing (KAF), Inc.
Water samples taken at the time and analyzed by the U.S. Environmental Protection Agency showed elevated amounts of formaldehyde, ammonia, and hydrogen peroxide.  Tissue samples revealed that the dead fish were killed by columnaris disease – the result of a bacterial infection. This particular bacterium is commonplace in freshwater and typically only results in fish kills when there are other environmental stressors at work. Columnaris disease alone cannot explain this event. Specifically, columnaris does not affect birds or reptiles but both were also found dead in and near the river during the 2011 event.
While GA EPD (Environmental Protection Division) never concluded that KAF was responsible for the event, no dead fish were discovered above their discharge pipe. Additionally, EPD discovered that the plant had added a new Flame Retardant process to their line in 2006 without updating their discharge permit with the state. For five years, KAF had been dumping their wastewater (with unknown contents and volumes) into the river.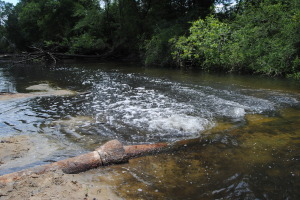 Under the Clean Water Act, KAF could have been fined up to $50,000 for each day they were in violation. With violations spanning five years, that's a potential total of over $90 million in fines. However, under a consent order between GA EPD and KAF signed in September of 2011, KAF would only be made to fund $1 million worth of environmental projects on the Ogeechee River with no fines at all.
Ogeechee Riverkeeper (ORK) sued KAF in 2012 for violations of the Clean Water Act, arguing that the light punishment was not enough to correct KAF's behavior in the future. After a lengthy legal battle, the lawsuit was settled in January of 2014. The settlement agreement puts in place comprehensive and stringent environmental protections and establishes programs to aid in restoration efforts along the river.
ORK is confident in the stricter permit limitations placed on the facility, as well as the comprehensive water testing plan and wastewater treatment upgrades at the plant. KAF's stricter permit includes a 30-35% decrease in the discharge limitations on fecal coliform bacteria and sulfide, numeric limitations on color discharge and a 20% decrease in the total amount of discharge allowed to flow into the river.
KAF also paid a large sum to Ogeechee Riverkeeper for various projects as a part of the settlement.
King America Finishing was purchased from Westex Inc. in May of 2014 by the South Carolina-based Milliken & Co.
---
Live data from Milliken sondes
Data includes water levels, dissolved oxygen, pH level and more. To view live data upstream and downstream of Milliken, click the link and use the following login information:
username: OgeecheeRK
password: W@terQual1ty