Love to read? Us too! Here are some books centered around water, nature, adventure, the outdoors, and wildlife that are available through the Georgia PINES library system. Check them out!
The PINES network makes books available to all library card holders across the state, regardless of their local system reach. PINES library cards are free for anyone who lives, works, or goes to school in Georgia. Visit your local library to sign up for a library card!
Click on any cover or title to visit the PINES library page.
Please note: ORK makes no assertions or claims about the quality or suitability of any of these books. This list is only meant to provide ideas for readers to explore.
---
Nature's Best Hope: A New Approach to Conservation That Starts in Your Yard by Douglas W. Tallamy
Nature's Best Hope advocates for homeowners everywhere to turn their yards into conservation corridors that provide wildlife habitats. This home-based approach doesn't rely on the federal government and protects the environment from the whims of politics. It is also easy to do, and readers will walk away with specific suggestions they can incorporate into their own yards.
---
Strange Harvests: The Hidden Histories of Seven Natural Objects
by Edward Posnett
In this beguiling book, Edward Posnett journeys to some of the most far-flung locales on the planet to bring us seven wonders of the natural world – eiderdown, vicuña fiber, sea silk, vegetable ivory, civet coffee, guano, and edible birds' nests – that promise ways of using nature without damaging it. To the rest of the world these materials are mere commodities, but to their harvesters they are imbued with myth, tradition, folklore and ritual, and form part of a shared identity and history.
---
Slime: How Algae Created Us, Plague Us, and Just Might Save Us by Ruth Kassinger
There are as many algae on Earth as stars in the universe, and they have been essential to life on our planet for eons. Algae created the Earth we know today, with its oxygen-rich atmosphere, abundant oceans, and coral reefs. Crude oil is made of dead algae, and algae are the ancestors of all plants. Today, seaweed production is a multi-billion dollar industry, with algae hard at work to make your sushi, chocolate milk, beer, paint, toothpaste, shampoo and so much more.
---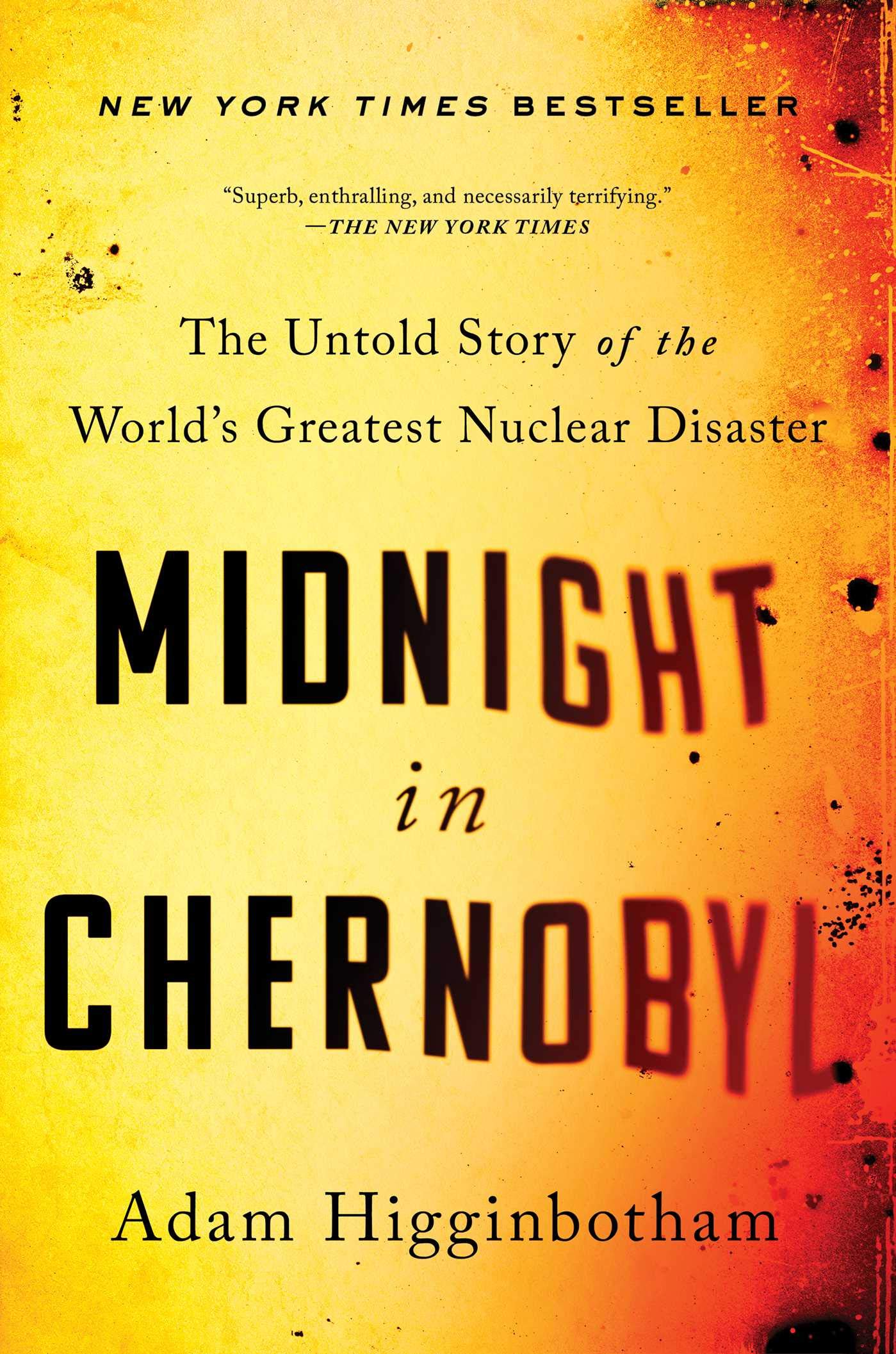 Midnight in Chernobyl: The Untold Story of the World's Greatest Nuclear Disaster by Adam Higginbotham
Early in the morning of April 26, 1986, Reactor Number Four of the Chernobyl Atomic Energy Station exploded, triggering history's worst nuclear disaster. Midnight in Chernobyl is an indelible portrait of one of the great disasters of the twentieth century, of human resilience and ingenuity, and the lessons learned when mankind seeks to bend the natural world to his will—lessons which, in the face of climate change and other threats, remain not just vital but necessary.
---
Opportunity, Montana: Big Copper, Bad Water, and the Burial of an American Landscape by Brad Tyer
At the turn of the nineteenth century, Montana exploited the richest copper deposits in the world, fueling the electric growth of twentieth-century America and building some of the nation's most outlandish fortunes. The toxic by-product of those fortunes—what didn't spill into the river—was dumped in Opportunity. In the twenty-first century, Montana's draw is no longer metal but landscape: the blue-ribbon trout streams and unspoiled wilderness of the nation's "last best place." To match reality to the myth, affluent exurbanites and well-meaning environmentalists are trying to restore the Clark Fork River to its "natural state."
---
Thames: The Biography by Peter Ackroyd
Thames: The Biography meanders gloriously, rather like the river itself. In short, lively chapters Ackroyd writes about connections between the Thames and such historical figures as Julius Caesar and Henry the VIII, and offers memorable portraits of the ordinary men and women who depend upon the river for their livelihoods. He visits all the towns and villages along the river from Oxfordshire to London and describes the magnificent royal residences, as well as the bridges and docks, locks and weirs, found along its 215-mile run.
---
The River at Night: A Novel by Erica Ferencik
What starts out as an invigorating hiking and rafting excursion in the remote Allagash Wilderness soon becomes an all-too-real nightmare; a freak accident leaves the women stranded, separating them from their raft and everything they need to survive. When night descends, a fire on the mountainside lures them to a ramshackle camp that appears to be their lifeline. But as Wini and her friends grasp the true intent of their supposed saviors, long buried secrets emerge and lifelong allegiances are put to the test.
---
A River Runs through It and Other Stories By Norman MacLean
The title novella is recognized as one of the great American tales of the twentieth century, and Maclean as one of the most beloved writers of our time. The finely distilled product of a long life of often surprising rapture—for fly-fishing, for the woods, for the interlocked beauty of life and art—A River Runs Through It has established itself as a classic of the American West.
---
The Source: How Rivers Made America and America Remade Its Rivers By Martin Doyle
America has more than 250,000 rivers, coursing over more than 3 million miles, connecting the disparate regions of the United States. On a map they can look like the veins, arteries, and capillaries of a continent-wide circulatory system, and in a way they are. Over the course of this nation's history rivers have served as integral trade routes, borders, passageways, sewers, and sinks. Over the years, based on our shifting needs and values, we have harnessed their power with waterwheels and dams, straightened them for ships, drained them with irrigation canals, set them on fire, and even attempted to restore them.
---
Wind, Sand, and Stars by Antoine de Saint Exupéry ; translated from the French by Lewis Galantière
A National Geographic Top Ten Adventure Book of All Time
Recipient of the Grand Prix of the Académie Française, Wind, Sand and Stars captures the grandeur, danger, and isolation of flight. Its exciting account of air adventure, combined with lyrical prose and the spirit of a philosopher, makes it one of the most popular works ever written about flying.
---
Tracks: A Woman's Solo Trek Across 1700 Miles of Australian Outback by Robyn Davidson
Enduring sweltering heat, fending off poisonous snakes and lecherous men, chasing her camels when they get skittish and nursing them when they are injured, Davidson emerges as an extraordinarily courageous heroine driven by a love of Australia's landscape, an empathy for its indigenous people, and a willingness to cast away the trappings of her former identity. Tracks is the compelling, candid story of her odyssey of discovery and transformation.
---
Endeavour: The Ship That Changed the World By Peter Moore
The Enlightenment was an age of endeavors, with Britain consumed by the impulse for grand projects undertaken at speed. Endeavour was also the name given to a collier bought by the Royal Navy in 1768. It was a commonplace coal-carrying vessel that no one could have guessed would go on to become the most significant ship in the chronicle of British exploration. The first history of its kind, Peter Moore's Endeavour: The Ship That Changed the World is a revealing and comprehensive account of the storied ship's role in shaping the Western world.
---
A Walk in the Woods: Rediscovering America on the Appalachian Trail by Bill Bryson
The Appalachian Trail trail stretches from Georgia to Maine and covers some of the most breathtaking terrain in America–majestic mountains, silent forests, sparking lakes. If you're going to take a hike, it's probably the place to go. And Bill Bryson is surely the most entertaining guide you'll find. He introduces us to the history and ecology of the trail and to some of the other hardy (or just foolhardy) folks he meets along the way–and a couple of bears.
---
Welcome to the Goddamn Ice Cube: Chasing Fear and Finding Home in the Great White North by Blair Braverman
Blair Braverman fell in love with the North at an early age: By the time she was nineteen, she had left her home in California, moved to Norway to learn how to drive sled dogs, and worked as a tour guide on a glacier in Alaska. Welcome to the Goddamn Ice Cube charts Blair's endeavor to become a "tough girl"—someone who courts danger in an attempt to become fearless. As she ventures into a ruthless arctic landscape, Blair faces down physical exhaustion—being buried alive in an ice cave, and driving a dogsled across the tundra through a whiteout blizzard in order to avoid corrupt police—and grapples with both love and violence as she negotiates the complex demands of being a young woman in a man's land.
---
We swim in freezing Arctic waters and piranha-infested rivers to test our limits. We swim for pleasure, for exercise, for healing. But humans, unlike other animals that are drawn to water, are not naturalborn swimmers. We must be taught. Why We Swim is propelled by stories of Olympic champions, a Baghdad swim club that meets in Saddam Hussein's former palace pool, modern-day Japanese samurai swimmers, and even an Icelandic fisherman who improbably survives a wintry six-hour swim after a shipwreck.
---
Where the Water Goes: Life and Death Along the Colorado River by David Owen
The Colorado River is an essential resource for a surprisingly large part of the United States, and every gallon that flows down it is owned or claimed by someone. David Owen traces all that water from the Colorado's headwaters to its parched terminus, once a verdant wetland but now a million-acre desert. He takes readers on an adventure downriver, along a labyrinth of waterways, reservoirs, power plants, farms, fracking sites, ghost towns, and RV parks, to the spot near the U.S.–Mexico border where the river runs dry.
---
River of Lost Souls: The Science, Politics, and Greed Behind the Gold King Mine Disaster by Jonathan P. Thompson
Award–winning investigative environmental journalist Jonathan P. Thompson digs into the science, politics, and greed behind the 2015 Gold King Mine disaster, and unearths a litany of impacts wrought by a century and a half of mining, energy development, and fracking in southwestern Colorado. Amid these harsh realities, Thompson explores how a new generation is setting out to make amends.
---
Sea People: The Puzzle of Polynesia by Christina Thompson
For more than a millennium, Polynesians have occupied the remotest islands in the Pacific Ocean, a vast triangle stretching from Hawaii to New Zealand to Easter Island. How did the earliest Polynesians find and colonize these far-flung islands? How did a people without writing or metal tools conquer the largest ocean in the world? This conundrum, which came to be known as the Problem of Polynesian Origins, emerged in the eighteenth century as one of the great geographical mysteries of mankind.
---
The River of Doubt: Theodore Roosevelt's Darkest Journey by Candice Millard
The River of Doubt—it is a black, uncharted tributary of the Amazon that snakes through one of the most treacherous jungles in the world. After his humiliating election defeat in 1912, Roosevelt set his sights on the most punishing physical challenge he could find, the first descent of an unmapped, rapids-choked tributary of the Amazon. Together with his son Kermit and Brazil's most famous explorer, Cândido Mariano da Silva Rondon, Roosevelt accomplished a feat so great that many at the time refused to believe it. In the process, he changed the map of the western hemisphere forever.
---
The River's Tale: A Year on the Mekong by Edward A Gargan
From windswept plateaus to the South China Sea, the Mekong flows for three thousand miles, snaking its way through Southeast Asia. Long fascinated with this part of the world, former New York Times correspondent Edward Gargan embarked on an ambitious exploration of the Mekong and those living within its watershed.
---