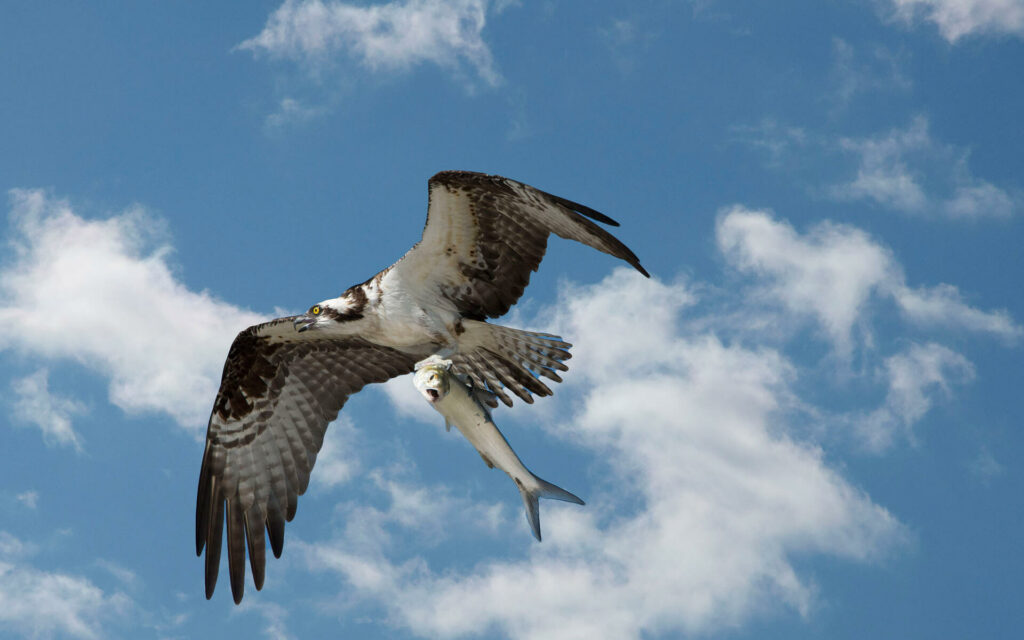 Western osprey
Pandion haliaetus
This large bird of prey can often be spotted in the Ogeechee watershed as they feed almost exclusively on live fish. They are adept hunters, diving in shallow waters and pulling up fish in their opposable talons. As a species they have adapted fairly well to living near human settlements. They often built sturdy nests on tall structures like telephone poles and channel markers, as well as trees overlooking waterways.
The nests are put together from sticks and other natural materials but can grow to be more than 10 feet wide over many years. Aside from breeding and nesting, ospreys are usually solitary birds. They hatch 1-4 fledglings each year and their numbers have stabilized since the ban on DDT which harmed their eggs.
The birds seem to live about 15-20 years, and according to the Cornell Lab of Ornithology, they have been known to log more than 150,000 migratory miles in their lifetime. One can spot the osprey with its mostly white coloring, especially on the underneath side of their nearly 6-foot wingspan. They sport the well-known hooked beak look of a bird of prey.
You can watch local osprey nests on Skidaway Island. The live cameras are operated by Skidaway Audubon and Cornell Lab of Ornithology. Watch baby ospreys grow up, leave the nest, and adults come home to roost, or choose clips of past highlights.