Shortnose sturgeon
Acipenser brevirostrum
The shortnose sturgeon is a hefty freshwater fish that can be nearly five feet long, weigh upwards of 60 pounds, and generally live about 30 years — some females have been known to live 70 years! Though they can be found feeding in saltwater environments, they live, and spawn, entirely in coastal, freshwater rivers, including the Ogeechee.. Because of this, their survival depends on two types of healthy ecosystems. Shortnose sturgeon are currently listed on the Endangered Species List.
Sometimes called a 'living fossil,' the shortnose sturgeon has been thriving in coastal areas for millions of years. There is evidence that the species has been fished by humans for at least 4,000 years. However, overfishing contributed to a swift decline in the late 1800s. According to NOAA, In 1890, more than 7 million pounds of sturgeon were caught in that year alone. In 1920, only 23,000 pounds of sturgeon were caught.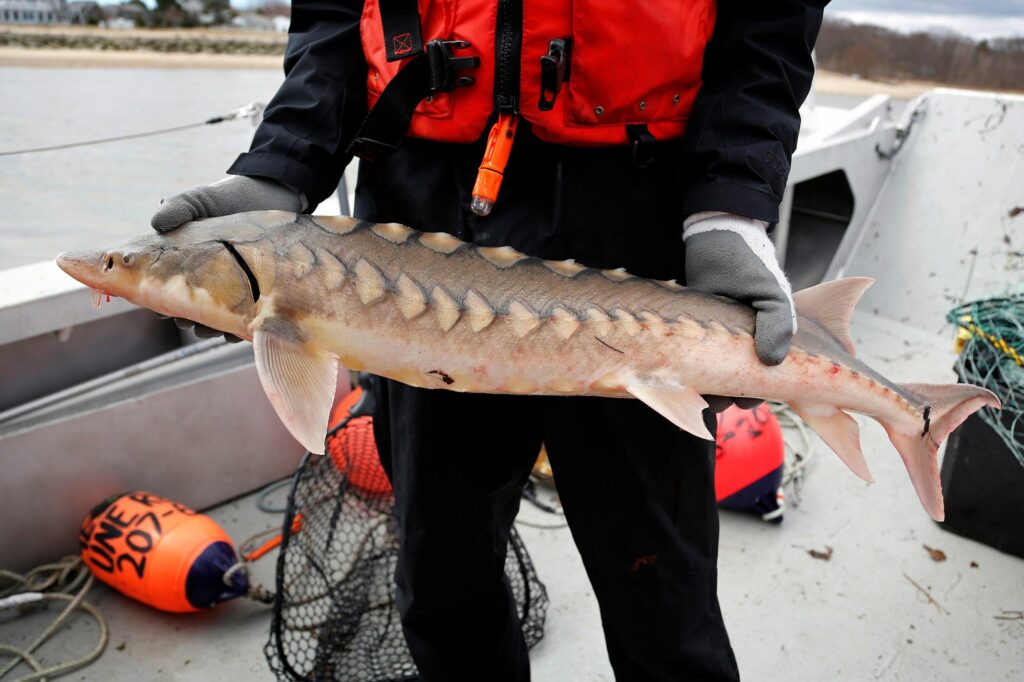 Their trademark ridged back is formed by bony plates called 'scutes,' giving them the appearance of armor. They lack teeth but have bony plates in their esophagus which serve to crush their food. They use their barbels — sort of like fish antennae — to find insects, crustaceans, and bivalves on the ocean floor or river bottom.
Due to their low numbers, protecting their habitat and spawning ability is crucial to the species population. Sturgeon require free flowing, unobstructed rivers and streams in order to swim upstream and spawn. They also need healthy intertidal zones to feed and rest.